Farm Transition and Succession
This page will feature articles, resources, presentations, templates and links to support decisions related to organizing and transferring farm assets for continued productive use. Topic key words include: Land and Farm Business Succession, Leases and Options, Business Entities, Estate Planning (wills, trusts, powers of attorney, etc.), Trustee and other fiduciary powers
This portal's particular focus is "farm business succession," the development of strategies and tactics to transfer working assets (e.g. supporting a business concern) so as to minimize any disruption in the income streams from (and costs of managing) such working assets. Farm succession (also popularly called "farm transition") will include business entities (e.g. limited liability company), titling of assets, contracts, leases, business valuation, use of life insurance, and communication.
Planning the Future of Your Farm (workbook download)
This comprehensive workbook – first published in 2006 and updated in 2018 – contains useful narratives and worksheets to assist with developing your estate planning and business succession documents. T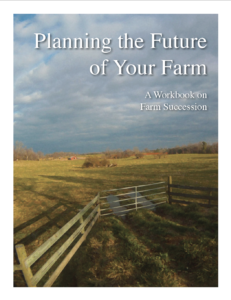 he PDF of the workbook can be dowloaded here.
Topic Materials (uploads in process)
(LEASES) Keeping Farmland in Farming: A Look at Farm Leases from both Landowner and Producer Perspective  This narrative reviews the farm lease tenure relationship from the landowner's side and from the farmer's side, with perspectives each should consider when reaching an agreement for the use of farmland.
(WILLS AND TRUSTS)
(BUSINESS ENTITIES)
Templates
(LEASES) Lease Memorandum Template (Multi Parcel) This is a template for a Memorandum of Lease listing multiple parcels owned by a landowner to be farmed by one producer entity, and recorded with the county register of deeds. Under North Carolina law, a lease in excess of three (3) years must be recorded to protect the leasehold on land transferred to a new owner (e.g. sold, gifted or inherited).